When Thomas Jefferson commissioned an expedition to explore the western frontier in 1803, he called upon two men who, among other things, were valiant record-keepers. Meriwether Lewis, a secretary, and William Clark, a cartographer, spent three years exploring and documenting an unknown territory. Some of the most important things to come from the Lewis and Clark Expedition were their personal journals, which contained invaluable information used by those who followed their trail westward.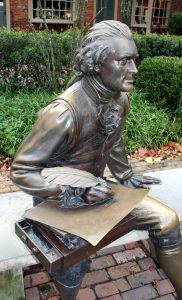 The value of record-keeping cannot be overstated. Advanced civilizations require written language, arts, sciences and government – which all begin with record-keeping. The same can be said about business. While all businesses keep records, there is a significant difference between a cave painting and the Great Library of Alexandria. Unfortunately, some business owners remain in the stone age of record-keeping, which can create significant liability.
Both Federal and State law require employers to create and maintain employment records. This includes payroll records, employee's name, address, occupation, hours worked each day and week, wages paid and date of payment, amounts earned as straight-time pay and overtime, and deductions. These records must be maintained for three years. [Lab.C. §§ 226(a), 1174(d), 29 CFR § 516.5]. Other records, such as time and earning cards and work schedules must be kept for two years. [29 CFR § 516.6].