The Federal Government has passed urgent legislation in response to COVID-19 (Coronavirus) in order to ease the financial impact on families impacted by the disease. The following are important laws that every employee should know about should they become infected by COVID-19.
Paid Sick Time Laws
California has been at the forefront of sick time laws. Currently, California law requires that employers provide 24 hours (or 3 days) of paid sick leave per year for full-time employees, which can be used beginning on the 90th day of employment.
In response to COVID-19, Congress passed The Emergency Paid Sick Leave Act, which requires employers to provide eligible full-time employees with up to 80 hours of leave, with full pay. These employees must not be able to work or telework due to a quarantine order, a health care provider's advisement to self-quarantine, or to seek a diagnosis when experiencing COVID-19 symptoms. Eligible part-time employees are entitled to fully paid time off on a pro rata basis, calculated on the average hours such employees work in a 2-week period.
Caring for Family Members
The Emergency Paid Sick Leave Act also allows for paid time off to care for family members. However, the available 80 hours of paid time off must be paid at 2/3 of the employee's regular pay. This will allow the employee to care for an individual who is subject to a quarantine order or a health care provider's advisement to self-quarantine, or to care for a minor child whose school or child care provider is closed or unavailable due to COVID-19. The same pro rata basis and 2/3 pay applies to part time employees.
It is important to note that leave under the Emergency Paid Sick Leave Act is subject to monetary caps on the leave ($511/day and $5,100 aggregate for personal illness leave reasons, and $200/day and $2,000 aggregate for care provider leave).
Medical Leave and Job Protection
The Family and Medical Leave Act (FMLA) and been around since 1993. It provides up to 12 weeks of protected leave for medical conditions or to care for a family member. However, to qualify for FMLA, the employee must have worked for 1250 hours over a 12-month period. It also only applies to employers with over 50 employees within a 75-mile radius.
In response to COVID-19, the Federal Government has passed the Emergency Medical Leave Expansion Act, which amends FMLA and broadens protection leave coverage. The EFMLEA applies to all employers with fewer than 500 employees. To be eligible, employees must have been employed for at least 30 calendar days.
The EFMLEA permits eligible full- and part-time employees with up to 12 weeks of job-protected leave if they are unable to work or telework to take care of their minor children in the event of a school closure or if their child care provider is unavailable due to COVID-19.
Employers may not require employees to exhaust other types of leave before taking leave under the EPSLA.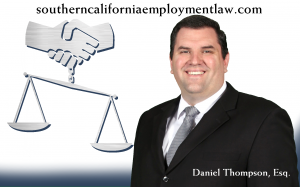 Daniel Thompson is an employment attorney with Davis & Wojcik APLC, a Southern California based law firm specializing in labor and employment matters with offices located in Temecula and Hemet. He is also the author of Land of Liability: A Guide for California Employers. He can be reached at (951) 652-9000 or by visiting www.dw.law.